KEY HIV STATISTICS IN NIGERIA
Globally it is estimated that 36.7 million people are living with HIV/AIDS and 25.5 million of these PLHIV are in sub Saharan Africa. (UNAIDS, 2016)
In sub Saharan Africa alone adolescent girls and young women accounted for 25% of new HIV infections among adults, and women accounted for 56% of new HIV infections among adults in 2015. (UNAIDS, 2016)
Key populations account for more than 20% of new infections in sub Saharan Africa with HIV prevalence among these populations often extremely higher than in the general population. (UNAIDS, 2016)
Current HIV prevalence among women attending ANC in Nigeria is 3.0% (ANC, 2014)  In Nigeria, 58% of the estimated 3,037,364 PLHIV in 2015 were females. (Nigeria spectrum estimates 2016).
Estimated number of new HIV infections in Nigeria dropped from 130,295 in 2010 to 104,388 with 55% (104,388) of the new infections found among females.
HIV prevalence among key populations in Nigeria: BBFSW (19.4%), NBBFSW (8.6%); PWID (3.4%) and MSM (22.9%).- IBBSS 2014
For more on HIV-AIDS  (WHO HIV/AIDS Fact Sheet)
MINIMUM PREVENTION PACKAGE INTERVENTION
The 2009 national HIV policy has highlighted prevention as a critical strategy for halting new HIV infections in Nigeria.
The National Strategic Plan 2010-2015 also prioritized HIV prevention as the overarching goal of the national HIV response.
Nigeria developed her first National HIV/AIDS Prevention Plan (NPP) in 2007 for the period 2007-2009 using the Abstinence, Be faithful and Condom use (ABC) approach.
The NPP 2010-2012 which introduced the combination prevention approach, locally called the "Minimum Prevention Package Intervention" (MPPI) was launched.
The NPP 2010-2012 was reviewed in 2013 and lessons learned was used to develop the NPP 2014-2015.
The NPP 2014-2015 seeks to scale up evidence-based programming using targeted interventions and standardized intervention packages at scale.
MPPI AND FLHE FACTS AND RESULTS IN 2015
HIV prevalence has declined among MARPS: BBFSW (37% in 2007, 27.4% in 2010 to 19.4% in 2014) NBBFSW (30.2% in 2007, 27.4% in 2010 to 8.6% in 2014) except for MSM which has increased from 13.5% in 2007, 17.2% in 2010 to 22.9% in 2014 (IBBSS, 2007, 2010, 2014).
Spending on HIV Prevention in the national response accounted for only 8.7% of total HIV expenditure in 2009, increased to 12.67% in 2011 with a slight decrease of 11.93% in 2012 before increasing to 20.34% and 25.62% in 2013 and 2014 respectively. (NASA 2015).
In the World Bank HPDP2 HIV/AIDS Fund (HAF) project 546 CSOs in 32 states reached 83,932 FSWs, 7306 MSMs and 3345 IDUs with MPPI as at the end of 2015.
The number of schools implementing FLHE curriculum in the country has increased six fold from 8,335 schools in 2014 to 48,551 schools in 2015.
The number of teachers trained to teach FLHE increased from 15,995 in 2013 to 25,113 teachers as at end of 2015.
% of MARPS reporting the use of condom with their most recent client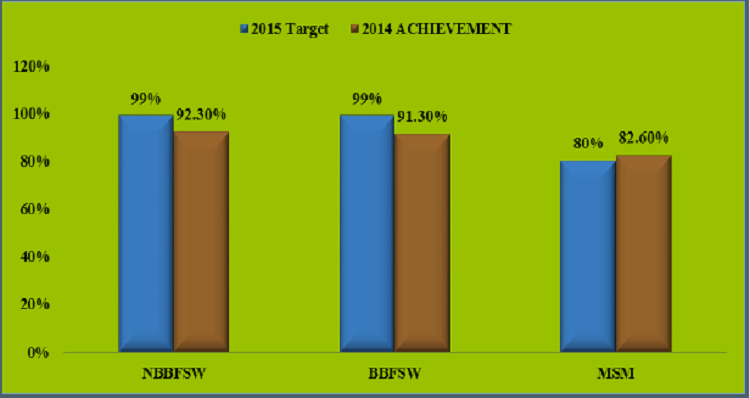 "Here in Nigeria, we have recorded a steady decline in HIV prevalence from a peak of 5.8 per cent in 2001 to 3.0 per cent in 2014, But this has not been an easy ride and challenges still exist – condom use is still too low and covers less than half of our need in sub-Saharan Africa. There is a dearth of knowledge on HIV among young people, with only a third having enough HIV knowledge to safeguard themselves" Dr. Sanni Aliyu
According to UNAIDS, in 2016, Nigeria had 220 000 (150 000 – 310 000) new HIV infections and 160 000 (110 000 – 230 000) AIDS-related deaths. There were 3 200 000 (2 300 000 – 4 300 000) people living with HIV in 2016, among whom 30% (19% – 42%) were accessing antiretroviral therapy. Among pregnant women living with HIV, 32% (22% – 44%) were accessing treatment or prophylaxis to prevent transmission of HIV to their children. An estimated 37 000 (22 000 – 56 000) children were newly infected with HIV due to mother-to-child transmission. Among people living with HIV, approximately 24% (18% – 32%) had suppressed viral loads.
The key populations most affected by HIV in Nigeria are:
Sex workers, with an HIV prevalence of 14.4%.
Gay men and other men who have sex with men, with an HIV prevalence of 23%.
People who inject drugs, with an HIV prevalence of 3.4%.
Since 2010, new HIV infections have decreased by 21% and AIDS-related deaths have decreased by 6%.
Nigeria's HIV epidemic affects all population groups and geographic areas of the country. It is the second largest epidemic globally. Key populations are disproportionately impacted by the epidemic.
Nigeria is a Fast-Track country and its response is guided by the National Strategic Framework 2017–2021, which aims at ending AIDS by achieving zero new infections, zero AIDS related deaths and zero discrimination. Elimination of mother-to-child transmission of HIV is a priority. Stigma and discrimination is a major challenge, especially towards key populations and people living with HIV.
NACA Fact Sheet: HIV Prevention Programme